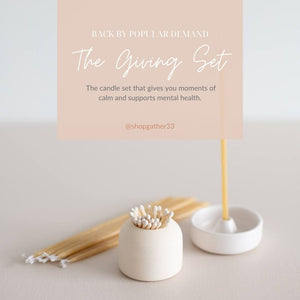 Back by Popular Demand: The Giving Set
You've been asking and now the wait is over, the Giving Set is back! We were thrilled with the positive response we had when we first introduced the Giving Set last holiday season. It meant so much to us how much you loved the set and your heartwarming feedback on supporting mental health, specifically for the youths in York Region where we're home to. If this is your first exposure to the Giving Set, please take a moment and read our original post about the details of the Giving Set, the benefits of meditation and how the proceeds are donated to  The Markham Stouffville Hospital Foundation in support of the Children & Adolescent Mental Health Unit at Markham Stouffville Hospital.  
For the Giving Set, we worked with the amazing local ceramist Susie of SKIM Ceramics to create these custom candle holders for our gala (and birthday) pure beeswax candles, which are also handmade in Canada. We have an updated version of the match striker, that is a little different than the one in the Holidays Giving Set. We're not sure if it's possible but we may love it even more with this set.
With the Giving Set now being a permanent item in our shop and not limited to just the holidays, we will be making semi-annual donations to The Markham Stouffville Hospital Foundation from the proceeds. Once in January after the holiday season and again at the end of May after Mother's Day. Any purchases made now until the holidays will go towards our donation in January 2023, which sounds really far away but we know will sneak up on us quickly.  
Similar to our Holiday Giving Set, we have two options of the Giving Set to choose from: Natural and Pastel. We can't wait for you to get these into your homes so you can enjoy moments of calm and clarity, clear the toxins in the air around you and feel good about supporting mental health in youths.
---