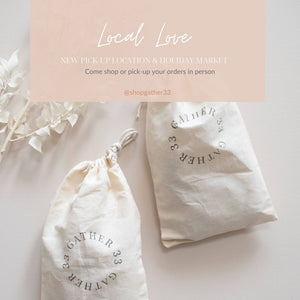 Come Shop or Pick-Up your Orders in Person this Holiday Season
The holiday season is upon us and we have 2 exciting pieces of news to share with you!
Come Shop at the Cornerstone Fun Fair and Christmas Market
First off, on Saturday November 26th we will be at the Cornerstone Fun Fair and Christmas Market from 11am - 2pm at 9680 Ninth Line in Markham. Here, you'll be able to come meet us and shop in person (aka smell all the amazing soaps and soaks we have and hold all the beautiful pieces we carry). We will be at the indoor market and entry is free to the entire event!
All our holiday gift sets will be available for purchase at the market along with our upcoming mystery boxes which are set to launch that weekend. Plus, we'll have an assortment of products from our online shop for you to browse and shop from. If you are one of our amazing Instagram followers, you can get 10% off* almost everything at the market. *Discount applies to all non-gift set items.
Some of the other fun and exciting events happening at the fair will be a gaming bus, a scavenger hunt, kids craft stations, different food vendors, a photobooth, just to name a few!
It is the perfect weekend outing to support your local businesses. We can't wait to see your lovely faces!
Local pick-up now available at RESET Coffee Bar
Our second news is that we are thrilled to offer local pick-up at RESET Coffee Bar, 222 Copper Creek Dr in Markham for this holiday season. Any orders over $50 placed between now until December 16th, will be eligible for local pick-up at RESET Coffee Bar. Last day to pick-up is December 21st. 
How does local pick-up work? Orders placed between Monday - Thursday of that week, will be ready for pick-up between Wednesday - Saturday of the following week. We also included a special surprise from RESET Coffee Bar for our local pick-ups. 
Who else is excited for the holidays? If you need a little reminder, our holiday gift sets are now available including our Giving Gift Set where the proceeds are donated to The Markham Stouffville Hospital Foundation in support of the Children and Adolescent Mental Health Unit.
We appreciate your kindness and support so much!
---