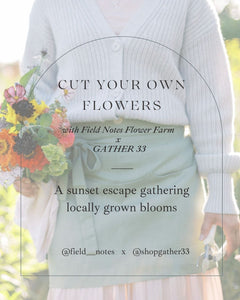 Cut Your Own Flowers Experience with Field Notes Flower Farm x GATHER 33
As the weather continues to warm-up, we are getting more and more excited about the colourful blooms we will soon be greeted with throughout the city and into the country. There's nothing quite like walking through rows and rows of flowers and soaking in all the relaxing sounds of nature.
This is why we're extra excited to announce that this summer in the evening of Friday, August 25th from 5pm - 8pm, we'll be offering a special 'Cut Your Own Flowers' experience with Field Notes Flower Farm in Uxbridge, Ontario. Marie, the extraordinarily lovely owner of Field Notes will greet you at her farm with a large mason jar where you'll be able to fill with all her gorgeous locally grown flowers to your heart's content, we should mention it will also be during the height of dahlia season!
The experience includes our GATHER 33 signature linen half apron in one of our limited edition colours that are inspired by nature, as well as a pair of flower shears to help you cut all the beautiful blooms to take home. Grab your favourite person or fly solo for some much needed me-time. Looking for something special to surprise the moms around you? This is it! 
Get your 'Cut Your Own Flowers' experience here, limited spots are available.
Details of the experience:
This experience package for $105 includes 1 person's Cut-Your-Own-Flowers ticket, 1 linen half apron in our limited edition colours in berry, rose, lilac or sky, 1 pair of flower shears and 1 mason jar. Each person attending will require the purchase of their own experience package. Valued at $149.
The address to Field Notes Flower Farm and more details will be provided after purchase on your ticket. Drop in anytime between 5pm - 8pm on Friday, August 25th. Should it rain on August 25th, the back-up rain date will be September 8th.
We can't wait for you to experience the magic at Field Notes Flower Farm!
---