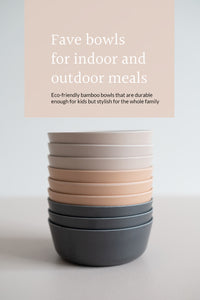 Friday Faves - Bamboo bowls for indoor and outdoor meals
Who's fully embraced soup season? If you missed our post about our top 3 favourite fall soups you can check it out here. 

For today's Friday Faves we're letting you know why we love our family friendly bamboo bowls. Having a beautiful and well-made bowl for your soup just makes your soup that much more enjoyable in our humble opinion.
Bamboo itself is one of the fastest growing plants on the planet which makes it a sustainable material.
These bamboo bowls go one step further and are made from bamboo waste created in bamboo chopsticks production.
The bowls are coloured with water-based colour pigments that are inspired by nature and safe enough for little ones.
They are durable enough for the littlest ones in your family but oh-so stylish for the whole family. 
They are also dishwasher safe which makes clean-up time a breeze.
There's really so much to love about our bamboo bowls, plus we have matching plates, cups and toddler utensils so you can create an entire set. They come in the colours fog, rye and ocean. We have a hard time choosing a favourite colour, what's yours?
---