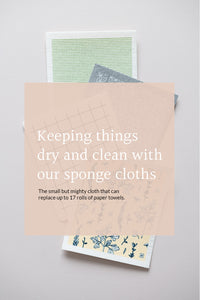 Friday Faves - Keeping things dry and clean with our sponge cloths
Earlier this week, we shared some tips and tricks on how beeswax wraps are versatile in their uses and 6 ways they can be used. If you missed our post, be sure to check it out here.
Our Friday Fave this week is the small but mighty sponge cloths. Just like the beeswax wraps, these are so versatile and easy to use. Here are some of the reasons why we just can't get enough of these pretty and practical sponge cloths.
A great alternative to paper towels that replaces up to 17 rolls of paper towel to reduce packaging waste in landfills. Your small steps to reducing waste!

Beautiful designs and colours to match the design of your space. 

Made with 100% biodegradable materials like cellulose and cotton, which means that once their life cycle is complete, you can toss it in your compost bin!

Each sponge cloth can absorb up to ¾ cup of liquid, which means easier cleaning with spills.

They store dry, and take up minimal space in your drawers.

When it's time to wash, simply load flat in the top rack of a dishwasher or toss into the washing machine and lay flat to dry. 
Ours are in our bathrooms and kitchens, and have traveled with us to our camping trips. They can be used to wipe the dust off the car dashboard and to wipe your front load washer door gasket after each wash to keep it dry. We think the possibilities are endless!
Check out our IG Reel to see how we're using the sponge cloths in our homes and share with us how you're using yours with us in the comment below.
---