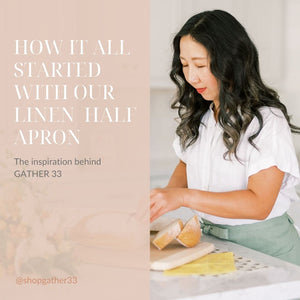 How it All Started with Our Linen Half Apron
Today we wanted to share a bit about how GATHER 33 was started. To those who have been with us since the beginning, we want to thank you for your support so far and know that we appreciate you so much for being here with us. To those who are just joining us, welcome, we're so glad you're here! Grab your favourite drink and let's hangout for a while.
It all started with a need for pockets a few years back when I was still a wedding photographer and shooting film. I don't know about you but I can never have enough pockets, especially as a photographer on a wedding day. With film photography, that pocket need was exponential. For those in the wedding industry, you know the importance of making quick decisions and having what you need within hand's reach. I wanted something that could keep my film and small gear organized but also nice enough to wear to a wedding. I had searched and tested different options but nothing was just right. I liked the idea of an apron that was close to your body but most aprons didn't have enough pockets for organization. Bags had more pockets and compartments but were harder to access and too bulky. This is when the idea of our signature 3-pocket film apron was born. I finally had something that had the organization I needed, deep pockets that were able to carry things safely and an apron made with quality linen that was environmentally friendly. It didn't take long to become a must-have tool in my gear. 
Fast forward a couple of years, this apron idea grew into a small business because it wasn't just film photographers that needed an apron for organization, I found many of my wedding and creative professional colleagues were also in need of the same tool. Stylists, planners, florists, bakers, calligraphers, to name a few. Our signature linen half apron started with our classic colours of sand and coal. We source our linen locally and our aprons are also made locally, which is something we are proud to continue doing today as we now offer more colour options, all inspired by nature. Our latest apron style is a full apron with a modified version of the 3 pockets. It reflects the same subtle curved details as the half apron around the neck and the pockets. Our aprons started as a wedding professional tool but now we also see so many non-wedding professionals like gardeners and cooks enjoying our aprons too, and we love it!
Our linen aprons represent the core of GATHER 33, the balance of functionality and aesthetics. We believe in having things that serve a purpose but are beautiful to look at, not just one or the other. This is what we carry into each product we introduce to GATHER 33. We want to have our cake and eat it too! I had to throw in a food reference there.
Now you know a bit more about how GATHER 33 was started and what inspired our linen half apron. In the following weeks, we'll share with you some of our apron lovers. Stay tuned for features of photographers, florists and other talented creative professionals. If you love our aprons and want to be featured, leave a comment below or send us an email. We love hearing from you.
---
1 comment