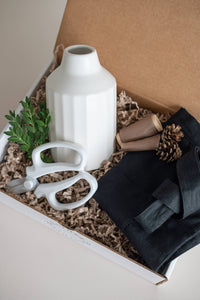 Last few days to get your holiday gift orders in
As we scroll through the calendar on our phones trying to plan the next few weeks of the month, we just can't believe how we are approaching the last 3 weeks of the year 2021. Where did the time go? It feels like it was just yesterday when we were getting excited for the fall to prepare and gather our gift sets for the holidays. The last few months just flew by so quickly.
We understand that this time of the year could get a little stressful and hectic especially with the last minute shopping and coordinating holiday gatherings with everyone. We're taking big breaths, reminding ourselves that it's ok to set some boundaries and to keep things easy. A simple reminder to be kind to ourselves during the holidays. 
We're also here to give you a friendly reminder that this week, we're approaching the last few days to get your holiday gift orders in on time before the December 24th.
Canadian shipping deadline - Today, Monday December 13th

Last day to order our Holiday Giving Sets - Thursday December 16th

Last day to order for local pick-up - Thursday December 16th

Last day for local pick-up - Saturday December 18th

Shop closed for the holidays - Monday December 20th to Sunday January 9th. Any orders placed during this time will be processed after we reopen on Monday January 10th. Thank you for your understanding.
As we wrap up the last few weeks of the year, we are feeling so grateful for all the love and support we've had from you, and we truly appreciate you for sharing our journey together. 
---