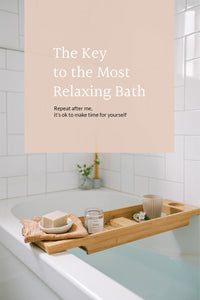 The Key to the Most Relaxing Bath
It's November already and I'm more tired than I can remember for a very long time. Is anyone else feeling like they haven't taken a break since the lockdowns were lifted? It was great at first, finally feeling some "normalcy" except it wasn't "normal". I felt like we were all trying to make up for all the lost time and it got overwhelming, fast! Now with the holidays just around the corner, I need to remind myself to dedicate time to self-care and reset. Who's going to join me?
One of my favourite things to do to relax is taking a bath. Now you might say you're not a bath person but hear me out. I wasn't a bath person before either. I'm a long, hot shower kind of gal, well I still am when I have the time, but what converted me to taking baths to relax was my honeymoon. We had gone to Maui and my sister had gifted my husband and I a spa package that included the use of the spa's water treatments. In one area of the spa they had a series of healing aromatic hydrotherapy baths. Each one was a little different and oh-so-amazing! It was so relaxing and memorable, that to this day, I'm still trying to recreate that feeling. What I really need is a trip back to Maui.
Product: Solstice pink Himalayan salt bath soak
What I learned is that the key to an amazingly relaxing bath is to hone in on all your senses, yes, all of them.
Touch - this one is key for me, I like my bath slightly on the warmer side so that I can soak for a while without worrying about getting cold. The warmer water really helps relax my muscles too. 
Smell - next most important for me is the smell, lavender and eucalyptus are high on the list for me for relaxing scents. A natural bath soak with essential oils or a fizzy bath bomb are my go-to.
Sight - now you're probably wondering what we're going to see in the bath but it's more like what you won't be seeing, dim the lights, light a beeswax candle and let your eyes have a rest.
Sound - personally after a long day all I want to hear is silence, you may want to play some soft music but for me I like just hearing the water in the tub.
Taste - ok, for this I mean liquids and not food, though if you bring a donut into your tub with you I won't judge but keeping hydrated is important and also helps you from getting too warm if you like hot baths.
Now once you have that all setup, just lay your head back, close your eyes, take slow, deep breaths and let your mind and body relax. Let go of all the lists and the to-do's running in your mind and focus on your breathing and how your body feels. Breathe in the wonderful scents you've chosen and focus on how they relax your senses. I always find I prefer taking a bath at night and then going to bed afterwards. I sleep like a baby, better yet, I sleep like my husband does.
I hope you can find time this week to focus on your self-care. I know it's hard for me to remember and a lot of times when I finally do it, it's because my body is physically drained and I'm mentally depleted. Maybe because I'm a type 6 enneagram, I don't feel productive unless I'm physically working on something. Ok, I'm going to schedule "self-care time" into my calendar so I don't talk myself out of it. Who else schedules everything into their calendars? It's the only way for me to stay organized nowadays. 
Shop the products in this post

Pin this for later
---